"Fluidly shifting her position on the stage, as well as her voice rhythms, accents, inflections, and gestures, Astor del Valle seamlessly embodies six people as they work through coming to terms with Joaquin's decision to transition to maleness."
– Lourdes Torres, Exploring Latino Masculinities
"Janis Astor del Valle, formerly of the Green Street Arts Center…is also a fine writer and performer."
— Richard Kamins, Middletown Eye
Middletown Eye blog about Becoming Joaquin
Wesleyan blog about Becoming Joaquin
Hartford Courant blog about Becoming Joaquin
FOR IMMEDIATE RELEASE
Contact: J. J. Ramon
(646) 245-9725
NEW PLAY ABOUT TRANSGENDER LATINO PREMIERES AT HARTFORD STAGE
Local Groups Support Award-winning Playwright to Spark Discourse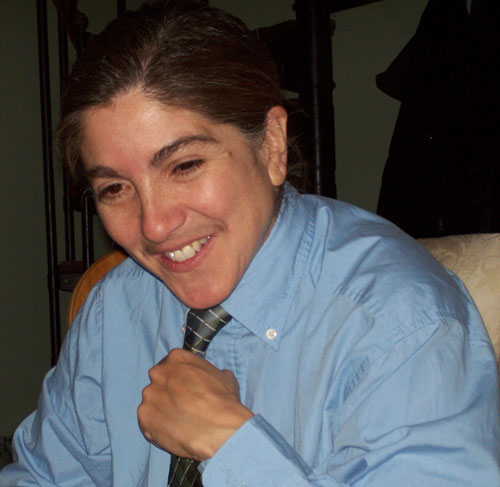 Connecticut Latina/os Achieving Rights and Opportunities (CLARO) presents the world premiere of Janis Astor del Valle's one-woman play, Becoming Joaquin, on Monday, March 8, 7:30pm, at Hartford Stage. Directed by Carolyn Kirsch, Astor portrays the title character, his family members and girlfriend, who are in therapy, struggling to accept his identity as a transgendered Latino. Tickets are $15 for the general public; a limited number of free tickets are available for high school students and anyone unable to pay the full ticket price, but they must be reserved. For reservations and information please call Charlie Ortiz at (860) 841-2345.
There will be a pre-show reception with light refreshments from 6-7pm. Immediately following the performance, which runs about an hour, Astor will join a panel of transgender people to dialogue with the audience. Co-sponsored by the Hispanic Health Council, the Connecticut TransAdvocacy Coalition (CTAC), and numerous local organizations, Astor believes the event "offers an excellent opportunity to bring together a diverse group of people to spark meaningful discourse about issues of identity and foster understanding of the transgender experience."
Astor, who resides in New Haven, teaches theatre at the Greater Hartford Academy of the Arts. She received a grant from the Children's Theatre Foundation of America to develop the piece, create study guides and reach out to teachers of local high schools to bring their students to the performance. CLARO also received a grant from the Love Makes a Family Foundation to help fund the show.
Astor holds an MFA in Film from Columbia University and a BA in Theatre from Marymount Manhattan College.  Her work is published in five anthologies, including Puro Teatro and Action: The Nuyorican Poets Café Theater Festival.  The writer-performer is touring her one-woman play, Trans Plantations, also directed by Kirsch, which explores her identity crisis as a New York-born Puerto Rican lesbian uprooted from the Bronx and transplanted to Connecticut.
Carolyn Kirsch has performed in 15 Broadway musicals, including How to Succeed in Business, Sweet Charity, and Chicago. She was in the original company of A Chorus Line, for which she won a Theatre World Award. Kirsch has worked extensively with the choreographers and directors Michael Bennett and Bob Fosse, and studied acting with Uta Hagen and Austin Pendleton. She is currently on the faculty of Wesleyan University's Green Street Arts Center, as well as the Greater Hartford Academy of the Arts.
CLARO is dedicated to advocacy and education on behalf of Latina and Latino LGBTQI individuals and groups and all members of the Latina/o community in the State of Connecticut. The Hispanic Health Council aims to improve the health and social well-being of Latinos and other diverse communities. CTAC endeavors to improve, through education, political and social advocacy and activism, societal attitudes and the law to achieve equal rights for the Trans and gender non-conforming individuals and communities.  Photography by Amy Joy Myers.