"Go see the play and ask yourself 'is del Valle's understanding or definition of love that much different than your own?' Leave lust out of the equation – we're talking about love, the love you feel holding your partner's hand as you sleep or walk through the streets after dinner, the love you feel when he or she comes home after a hard day at work or following a business trip, the love you cannot put into simple sentences."
– Richard Kamins, Hartford Courant
Hartford Courant Review of Trans Plantations, click here
"The label 'one-woman show' seems almost misleading for this play. It is true that del Valle was the only performer to grace the stage, but her skilled, dynamic story-telling exposed the audience to numerous other characters in her life…"
– Divya Gunasekaran, The Dartmouth
Dartmouth Review of Trans Plantations, click here
FOR IMMEDIATE RELEASE
Contact: J. J. Ramon
(646) 245-9725
LATINA LESBIAN PLAY ON TOUR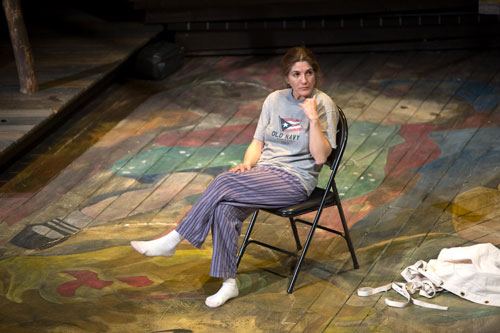 NEW HAVEN, CT – Award-winning playwright and screenwriter Janis Astor del Valle is touring her one-woman show, Trans Plantations, directed by Carolyn Kirsch.  The play explores Astor's lifelong struggle with cultural and sexual identity as a New York-born Puerto Rican uprooted from her Bronx barrio and transplanted to rural Connecticut. She conducts a talkback with the audience immediately after each performance.
Astor, who holds an MFA in Film from Columbia University and a BA in Theatre from Marymount Manhattan College, will perform this fall at the University of Miami and Southern Connecticut State University. She has performed Trans Plantations at numerous venues in and outside New York, including HERE, the Nuyorican Poets' Cafe, Hartford Stage, Yale, Dartmouth, Smith, DePaul, Wesleyan, UMASS and Suffolk County Community College.  Her work has also been produced by Dixon Place, INTAR, Pregones, Cornell University, and University of Santa Cruz, and published in a number of anthologies, including Puro Teatro (Univ. of Arizona Press).
Richard Kamins, of the Hartford Courant, calls Trans Plantations "a gutsy work, dealing with issues of sexual and cultural identity, 'coming out' and being truthful to yourself, family and friends," noting, "There are some good laughs and moments of sadness yet one will probably leave the theater space in awe of a fine writer and actress."
An earlier version of Trans Plantations is published in Action: The Nuyorican Poets' Cafe Theater Festival (Simon & Schuster), but the writer-performer says she prefers the current draft — the result of six revisions in nine years. "When my mentor [playwright-director] Dolores Prida told me in '96 that this piece would evolve, coinciding with my evolution as both an artist and a Latina, I was like, 'Yeah, right!' Pero, tu sabes, she was right… I just couldn't realize then how certain experiences, such as my mother's illness and subsequent passing, would shape my life…and my art…"
Astor received the Mixed Blood Theatre Award for her full-length play, Where the Señoritas Are, and the Zaki Gordon Award for Excellence in Screenwriting for her feature screenplay of the same name. She served as a Van Lier Playwriting Fellow at Mabou Mines, as well as a member of the Latino Writer's LAB at the Joseph Papp Public Theater and the Primary Stages New American Writers Group.
Carolyn Kirsch has performed in fifteen Broadway musicals, including How to Succeed in Business, Sweet Charity, and Chicago. She was in the original company of A Chorus Line, for which she won a Theatre World Award. Kirsch has worked extensively with the choreographers and directors Michael Bennett and Bob Fosse, and studied acting with Uta Hagen of HB Studios. She is currently on the faculty of Wesleyan University's Green Street Arts Center, as well as the Greater Hartford Academy of the Arts and the Hartford Children's Theatre.
To book Trans Plantations, please call (646) 245-9725.